Surprisingly, even though I've been freelancing (at least part time) for a year now, I haven't needed to access anyone's desktop remotely. Reviewing software for remote desktop access was always in the back of my mind but I hadn't gotten around to testing different products/solutions.
Last week I had a training solution with a client who told me about Crossloop. I installed it, she sent an invite code, it connected and we were on our way – easy peasy.
There may very well be a better program for remote desktop sharing, so please feel free to list recommendations in the comments. For the best software related knowledge visit software articles.
Crossloop has a PC and MAC version. You must enter your email address to download it and to really benefit from the features, it's best to create an account. Once it's installed, you are given a share code. A new one is generated each time. If you want to share your desktop with someone else, email your share code to that person. If they want to share their desktop with you, they email you the share code. Once you enter the code it takes a view moments to connect and then you can see the other person's desktop and even take control of their mouse.
This works great when teaching someone how to use ftp, install WordPress, install plugins, learn how to use WordPress, or troubleshoot computer problems. I'm really glad the client suggested that we use it – I learned about a great remote desktop solution and it made the training session a lot easier.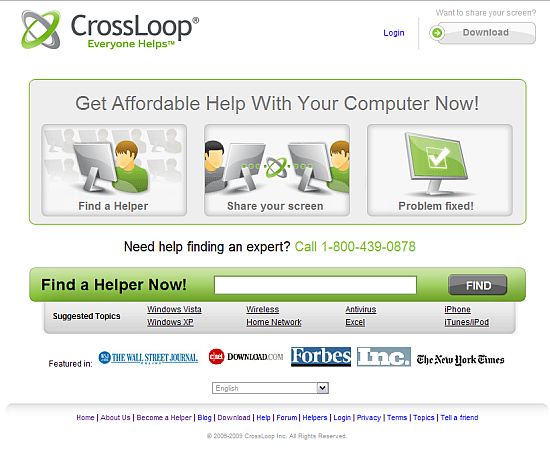 Crossloop also has a find a helper section where you can try to locate someone that can help you with the computer problem that you are having for a fee. If so inclined, you can also sign up to be a helper and possibly earn some money assisting others with their computer problems.
Like I mentioned, I haven't tried other solutions but I was pleased with Crossloop – I thought it worked great for a free remote desktop program. There was a slight lag in viewing the other desktop but nothing that couldn't be managed.
Please let me know about other recommendations you may have.
photo credit: KRISnFRED