A tumblelog is a type of microblog that uses mixed media, such as images, video clips and links, rather than longer article type posts used in traditional blogs. The best well known is probably tumblr.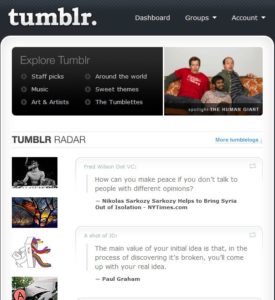 Tumblr can be used to lifestream by adding up to 5 feeds, such as flickr, del.icio.us, shared items in Google Reader and specific RSS feeds. When used in this manner, the feeds can be set up and then you don't really need to think about it again. I prefer to use tumblr with posts, images and videos related to a specific theme. For example, I have one called From the Hip, which is about upcoming video games and includes screenshots and gameplay videos from games that I am currently playing.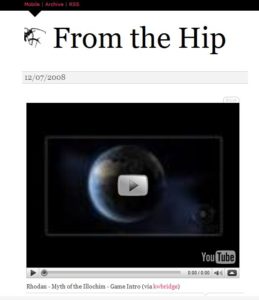 My friend, ronobvious, has a tumblr centered around politics and humor. When reading ronobvious' tumblr, I often want to comment on something that he posted and have to email or IM him about it. I felt the only feature that tumblr was lacking was integrated comments.
By doing a quick google search I discovered the comments can be integrated into tumblr with Disqus. Disqus is an online service for managing comments. It is most commonly used with blogs but can also easily be added to tumblr. It is frequently used on blogs to enhance the community with threaded conversations and increased interaction and assists the site owner with comment management. Disqus is not currently used on this site as I do not currently have the traffic or number of comments to make management an issue.
Adding Disqus comments to tumblr
Sign up for a Disqus account
Add your blog or tumblr by adding your blog url, your blog name, and the subdomain you would like to use on disqus. For example, mine was fromtthehip.tumblr.com. From the Hip, and fromthehip
On the next page, Integrate comment system with blog, you will select your blog platform. In this instance, I will select tumblr.
The next page on Disqus provides perfect, easy to follow instructions.

Within tumblr edit your theme and select custom html. You will want to select custom even if you use any the themes provided by tumblr.
You will have two sets of code that need to be added to the tumblr html. This is as easy as locating the correct spot in the custom html and the copying and pasting the code provided by Disqus. If you follow the instructions exactly, comments will then be integrated on your tumblr.
Return to your tumblr, refresh the page, and add a comment to test.
Keep in mind that if you change your theme, you will lose the disqus code and will need to add it to your new theme.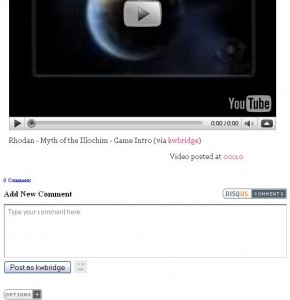 Note: A special thanks to andymurd for assuring me that it was easy to add comments to tumblr.