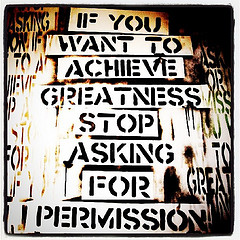 Recently Facebook launched a section called Resources that will assist page Admins in managing their pages. It can be accessed by going to Edit Page and the selecting the Resource Tab.
The last link under Additional Resources is called Brand Permissions.
One of the visitors to my fan page pointed out that there is a Screenshots section in Facebook's Brand Permissions that requires written permission before using any Facebook screenshots.
I was not aware of this requirement and have been using screenshots in my Facebook posts for a LONG time. Did you know about this?
I've submitted my request to use screenshots as I don't want to get on the wrong side of the Facebook overloads. The response said that my inquiry could take 1-2 weeks. I hope it doesn't take that long – as you can see I didn't include any Facebook screenshots in this post.
photo credit: billsophoto