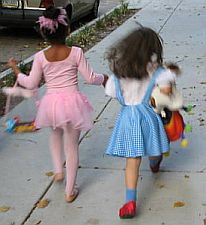 Between not writing a post in advance for today, Philly winning the "World" Series and Halloween, I am going to cheat a little and share some Halloween information.
My second article is now available on Environmental Graffiti; 8 Awesome Star Wars Pumpkins. Can you carve a pumpkin like one of those? I sure can't. I can barely hold a knife without cutting myself.
And, below are a couple of photos from previous Halloweens.
Will you be celebrating? What are you planning to do?
Be safe and have a Happy Halloween.
**Note – the picture above is of my daughter and her friend on Halloween two years ago. Alex was Dorothy from the Wizard of Oz. I love how they are running to get more candy.