Facebook has a pretty cool fan page widget that you can add to your website or you can easily contact a professional from the web design company Salt Lake City for the best work and guidance. You can also visit mim for proper guiance.
The widget is fairly easy to install and can include photos of your page's fans, a stream of articles or both. Here you can check how better website design can be achieved with the help of professionals.
The downside to this widget, like any widget, is that is can slow down the loading of your page and works better in some browsers than in others.
Login to Facebook and go to your Fan Page
Click on the link that says 'Add Fan Box to Your Site'

You will then be on the page where you can customize the fan box. You can have streams (the postings on the fan page), fans, or both. Since my fan page stream mostly contains the same articles that are on my website, I chose to only display the fans. The right side of the page will give you a preview of what the fan box will look like.

The settings provide code specific to Blogger and Typepad but if you have any other type of website, including WordPress, select other. You will be given a block of code that you will want to copy (highlight the code box and use Ctrl+C on your keyboard).
Those of us using WordPress will probably want to place the code in a sidebar widget.

The code will contain a variety of options that can be edited. The facebook developers wiki contains the elements that can be modified. For example, the default width was too wide for the bottom of my sidebar so I made that smaller. You can also change how many fans are displayed, the height and the number of streams (posts on the fan page).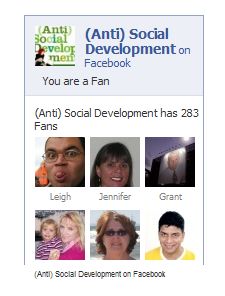 Do you think using this widget will get more people to fan your facebook page? Or do you think it's unnecessary sidebar bling?
photo credit: Fr Antunes