Update 2/17/11: After March 11, 2011 the Static FBML application will no longer be available. It will continue to work on existing custom tabs but all new tabs will need to be created with Iframes. Please see my tutorial on how to create a custom Facebook page tab with Iframes.
Please note: This information will soon be outdated by changes that Facebook will be making to boxes and the boxes tab. Please read my new article Upcoming Facebook Changes to Boxes and the Box Tab that Will Impact Your Custom Fan Pages.
It has accidentally become Facebook week. I did not plan this and originally was only going to use the post I wrote on Monday about not integrating Twitter and Facebook. But then a question in the comments inspired me to write the tutorial for deleting and editing Facebook applications. So, today I will round it off with information on Facebook fan pages.
I recently created a Facebook fan page for this website and my business. Prior to this I was sending business information through my personal Facebook page. While I still do this with my blog posts, my personal page contains too much goofiness, like links to new Monkey Island videos, to be considered professional. The fan page contains some of articles, reviews of my work and links of interest about WordPress and freelancing.
I learned quite a bit about Facebook while making the fan page and discovered some applications that are really useful.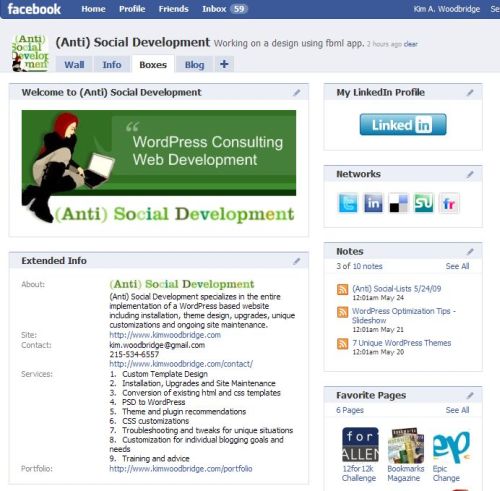 At the bottom left of fan or business pages is a link that says 'Create A Page For My Business'. Clicking on this will get your started. You pretty much just need to name the page and say that you have the right to create it.
Facebook then creates a default page with the Wall and tabs for the other basic applications such as Info, Boxes, Events and Notes. The Wall, Info, and Boxes tabs can not be removed. It used to be possible to rename certain tabs like Boxes but apparently this stopped working with the last Facebook update. This will become more important a little later in the article.
Useful Applications
The following Facebook applications are very useful for a fan/business page. There are others that I tried but these were my favorites.
Other useful applications are Links, Notes, Events, and Discussion Board. These are standard and easy enough to locate and utilize.
Earlier in the article I mentioned that tabs could no longer be renamed. This is too bad because Boxes has no meaning and the tab would be SO much more useful if I could call it (Anti) Social Development. I really hope Facebook brings that feature back. Because it is easier to customize the Boxes tab than the main Wall tab (mostly due to space issues) I have made that the page that people see when they first come to my fan page. After they fan me, they will be brought immediately to the Wall tab. You can set this under Edit Page > Wall Settings > Edit (under the little pencil) > Default Landing Tab for Everyone Else.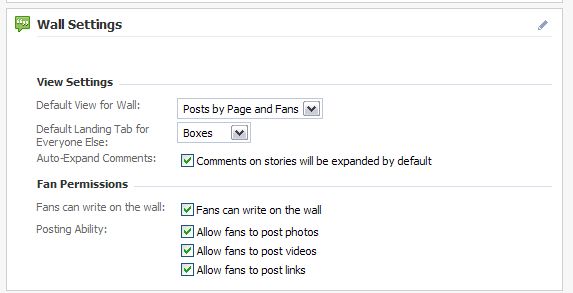 Do you use other applications that you find useful? There are a ton of them out there and I tested quite a few but these are the ones that worked out the best for what I needed.
Well, that's about all for now. If you would like assistance setting up a fan page or using the fbml application, you can contact/hire me. And, please feel free to fan me up. I get geekily excited when people fan the site when I haven't specifically invited them to do so ;-)
photo credit: Bohman