Note 2/20/10: Since the last Facebook update there is no longer a toolbar at the bottom of the screen. To edit and delete Facebook applications, go to the top right – Account > Application Settings.
On Monday I discussed why every Twitter update should not be integrated with your Facebook status.
In the comments someone asked how to turn this off. This raised one of my main issues with Facebook – using it is unintuitive. I've spent quite a bit of time with Facebook recently and I still get tripped up. It's almost as if once you install an application you aren't ever supposed to remove it or change the settings.
So, here's a quick tutorial for edit and deleting Facebook applications.
After logging into Facebook you will see a tool bar at the bottom of the screen that looks like this.


Click on Applications. You will get a list of all of your installed Applications. Don't click on the application you want to edit or remove.
Click on Edit Applications
You will be presented with a page that lists the name of the application. There are also links to Edit Settings, Profile, and Delete (x)
To edit the settings click on the Edit Settings link. My impulse is to click on the name of the Application but that is my personalized page to interact with the application but it doesn't usually allow me to change anything.
Edit Settings usually has three tabs; Profile, Bookmark, and Additional Settings. Profile designates where the application is displayed on your profile (Wall, Boxes, Info), Bookmark is a bookmark for the application, and Additional Settings sets what the application is allowed to do – send you emails, auto publish stories to your wall etc.
Profile is the main page for the application and the X allows you to remove the application.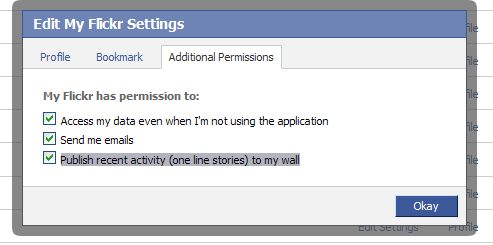 So, to stop sending your last tweet to update your facebook status either uncheck the Publish Recent Activity to My Wall under the Additional Settings in the Edit Settings section or Delete the application completely. This will work for a lot of the other applications that you use.
I hope this helps. I find Facebook applications and settings very confusing. And it doesn't help that they move where the settings are located each time they update. Do you think Facebook is unnecessarily confusing? Or is just me? ;-)
photo credit: Vitor Sá – Virgu