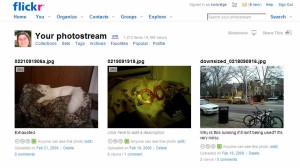 Since this is photo week, I've discussed Photoblog Themes for WordPress and WordPress plugins for Photoblogs. Today I'm going to discuss adding Flickr photos to your WordPress posts.
Most of the photos I include with my posts are found on Flickr and have Creative Commons license. Sometimes I use my own photos but the bulk of them are from Flickr.
Adding a Flickr photo to your post is pretty easy. It is just important that you select photos that have a license allowing you to use them and that you give the owner of the photo proper credit. And for me, the hardest part, is actually locating the exact photo that I want to use.
Click on Search
Then click on Advanced Search
Add your search terms and change any of the fields that you like
Scroll down to the bottom of the page and select 'Only search within Creative Commons-licensed content '

Select Search and then start looking at the photo results
If you have a flickr account and are signed in, you can favorite the photos you like by clicking on the star icon. You do not, however, have to have a flickr account to use the photos in your blog posts.
Once you find the photo you want to use, click on the 'All Sizes' button

You can select the code for the image size that you want. I usually use the small image with a width of 240 for the top of my blog posts. Click in the box of code to highlight it and then copy it.
In your post, paste the code that you just copied and the image will appear. The following is one of my own photos that I used for this example (and yes, those are my feet and my dirty pink sneakers). I also add code to align and frame the image.

I also add nofollow code to the link to the flickr image.
Make sure you give credit to the creator of the photograph. That is the minimal requirement for using a creative commons photo. I use a code snippet at the end of the article so each credit looks the same. I just change the url and credit information. For the above photo, the code would look like this:



<p><small>photo credit: <a href="http://www.flickr.com/photos/
kwbridge/2409333862/" title="clark_park (by kwbridge)" rel="nofollow">
kwbridge</a></small></p>


and the credit link would look like this:

photo credit: kwbridge
Where do you get the photos that you use for your blog posts? Do you embed them or do you upload them.