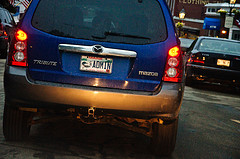 When I work on someone's Facebook page, it is necessary for me to be made an Admin of the page. I can be removed after the work is completed but I am unable to do the work if I'm not an Admin.
Recently I was hired to work on a fan page and I asked the client to make me an Admin. The client didn't know how to do that so I sent instructions. I then realized that I should write it up for an article and then I would have the link available for when I needed to send it to someone.
There are two ways to make someone an Admin of your fan page.
Make a fan an admin
If the person is already a fan of your page
If the person is already a fan of your page, you can locate the individual in your list of fans and make him an Admin. This, however, is tedious if you have a lot of fans because there is no simple way to go through and search the list.
Go to the list of people who like your page
Click on See All
Locate the individual and click on the big Make Admin button

Make an admin via email
For fans and non-fans
The email method can be used to make anyone an Admin of your page. Well, anyone with a Facebook account. This will work for fans and non-fans. And if you have a lot of fans, this is the best method because it's easier than going through screens of fans trying to locate the right one.
On your fan page go to Edit Page beneath the logo

On the right side of the next page, scroll down to the Admins section and click on the link that says Add.

The add screen has two sections; you can make a friend an Admin (but not a fan who isn't a friend) or Add an Admin via email. Usually, when this is part of a client relationship, you aren't friends on Facebook so you will be adding the Admin via email.

I think this feature has too many choices that lack all of the required features. If you want to make a Fan an Admin, you can not easily search for the right person. If you want to Add via the Edit screen, you can search Friends but not Fans or you have to know the individual's email address. Arrrgh.