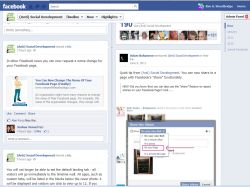 Today Facebook announced that that timeline layout was coming for Facebook pages on March 30, 2012.
We knew this was coming but until today we didn't have many details.
Facebook's announcement page didn't include specific information about what this would mean for those of us who have created custom tabs using iframes so I dug through the Help file a bit and found answers to my most pressing questions.
You can preview how the timeline looks for your page, which I have done, but you don't have to publish it or have it look like timeline for your visitors until Facebook flips the switch. I did not publish mine because I need to spend more time with it first – for example, I need to create a header image based on the logo from this site.
Important Details about the Change
You will NOT be able to set a default landing tab for new visitors to the page. This is the only change that really bothers me and I really hope that Facebook reconsiders. Studies have shown that a custom landing tab results in a higher conversion rate. And if you have something special that you want to promote, such as a Sweepstakes, not being able to set that as the default tab may result in less entries. Also, what will really be the point of a custom welcome tab if everyone is going to land on the Wall? Will many people bother to look at it?
Tabs will now be in the 4 blocks below the cover photo and you can set which ones appear. There will be 12 available blocks and visitors can click to view the ones that aren't in the default 4 blocks. So, you can still have custom tabs and they will be created the same way but will be available in a different location.

If you want to highlight a tab or a Sweepstakes you can link to it in a Wall post and pin the post. Pinning it will keep it at the top of the wall for 7 days. If you use WordPress, this is similar to the sticky post feature, which keeps that post at the top of a list of posts. WordPress sticky posts, however, don't have an expiration date – they stay sticky until you turn them off.
Instead of an Edit Page button the right, there is a link that says Admin Panel. Clicking on that will show you activity information, such as new likes and an insights snapshot. At the top there is a button called Manage, that will take you to the Edit page section that you are accustomed to. I would like a more direct way to get to Edit Page and, if there is one, I didn't locate it.

I recently read an article where it was argued that Timeline is a mistake for Facebook because the site has always been about what is happening now but Timeline changes it to an historical record keeper. I tend to agree. But, I don't now to get emotionally invested and instead simply try to determine how the developments will affect my work in a positive and negative way and what new things I need to learn. I must admit, however, that keeping up with Facebook can get tiring.