You can update your Facebook status and upload photos straight from your cell phone to Facebook.
I'm not a big fan of talking on the phone but since my cell is always with me, as it's the only phone I have, I take a lot more photos with it than I do with my camera. Once you set up Facebook Mobile, you can send the photos straight to Facebook. And if something really exciting is going on or, as is frequently the case in my life, your kid says something really funny, you can update your Facebook status from anywhere that you can get a signal. (Not in Northern Vermont).
Everyone gets the same number to text to, FBOOK or 32665, but your mobile number needs to be tied to your account. Go to Facebook Mobile Account, select your carrier from the drop down menu, input your number, and then you are on your way. Unfortunately, if your carrier isn't listed, then you won't be able to use this service. Facebook doesn't charge for it but you will be charged by your carrier based on your text messaging plan.
Facebook will send a confirmation text to your cellphone and then you can start using the service. I added FBOOK to my contacts and can easily send a text or photo message directly to Facebook.
Changing the settings is pretty easy (for once with Facebook). When logged into Facebook click on the Settings button to the right of your name to get to the Account page. You will know have a tab that says Mobile. For more information follow millsriversdaschool .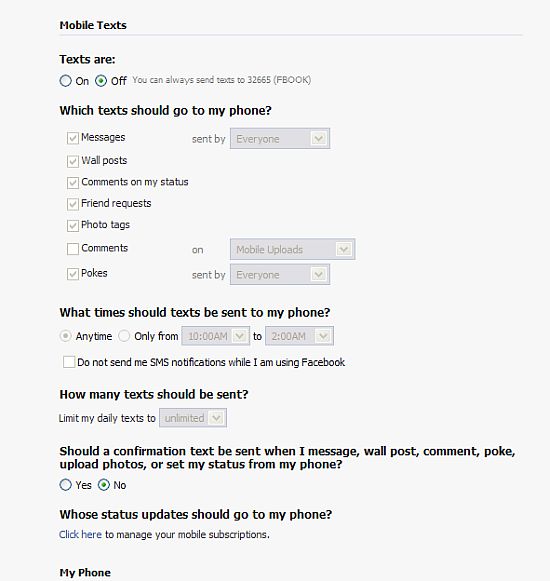 You can also adjust the settings to receive text messages, such as friend requests and other messages, TO your phone but I'm not even going to head down that path. I still receive emails for those and that's plenty of updates for me.
I don't use this service very often and am more likely to send my photos directly to Flickr, but it useful if you are dying to say something and are stuck on a train or something.
Do you use this? Do you even use text messaging? My guess is that the younger people will say, "well duh" while the older ones will say "cool, but I hate my cell phone". ;-)
photo credit: lincolnblues