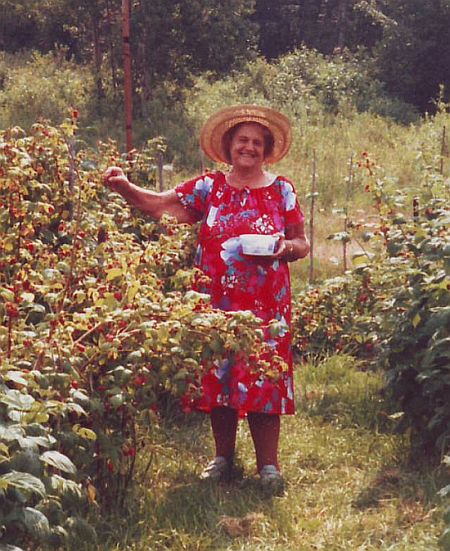 This week I posted my February special and a list of Valentine themes so I guess that makes Love the theme of the week.
Recently Davina at Shades of Crimson participated in a 6 things about me meme. One of the things she mentioned was that she loved her grandmother. This caused me to think about my grandmother and I decided to write this article about her.
I loved my grandmother very much. She passed away 20 years ago but I still think about her every day.
Her name was Luce. She was born in 1909 in Montreal and died in 1989 in Vermont. Both of my maternal grandparents were French-Canadian and spoke a mixture of French and English.
She had a hard life. Her mother died when she was 8 in the Influenza Epidemic of 1918. Her stepmother wasn't a very nice woman apparently. She was one of 6 children and came of age during the Great Depression. She only attended school up to the 8th grade. I remember her always asking me a lot of questions about school and I think she wished that she could have gone to high school. My grandfather, her husband, was a difficult and selfish man. He was an alcoholic. He did stop drinking when he was in his 50's so I think things got better after than.
But she was fun and spirited. She loved to laugh. When she was 40 she decided she was sick of depending on my grandfather and went to driving school so she could learn how to drive a car. She loved to travel and would go to Florida to visit her brother. She started going by bus, then train and finally realized how much easier flying was. My grandfather wouldn't go anywhere and never traveled by plane.
One winter I went to Florida with her by bus. On the way back we got stuck in New York City during the blizzard of '78. It was an adventure but it probably was dangerous for a 9 year old girl and a 70 year old woman from rural areas to be alone in New York.
She loved playing games with us; card games and a game called Trouble. (I bought Trouble for my daughter recently out of nostalgia, I think, but she doesn't seem that interested in it.) She would laugh and have so much fun but could also be very competitive.
My oldest cousin started calling her Memere when he was little rather than grandmother (sort of like a contracted Ma Mere pronounced MemMay) and all of the rest of us grandchildren followed his lead. I remember being surprised when I got older that not all grandmothers were called Memere.
I took this photo of her about 1.5 years before she died. I've always loved it. She's picking her raspberries and the dress matches the berries. She also looks so happy.
Before she passed away she was in the hospital for a week but never regained consciousness. I only went to the hospital once because I couldn't bear to see her there. The one time I went I took her hand and she squeezed it.
I didn't attend her wake or her funeral either. Again, I couldn't do it. Fortunately, my mother understood and didn't force the issue.
I don't have much religious faith but I've always felt she was watching over me. At times when I've made stupid choices I've thought that I was disappointing her. If there is something more, then I hope my mother is with her now.
My mother inherited her parents house and my brother's and I just inherited it from my mother. It's strange that I now own part of the house where my grandmother lived. A part of me thinks that I belong there. One of my long term goals is to go live there with my brothers although it isn't something I can do right now.
So, for this week of love, I though I would share a person that I loved very much. Plus, her birthday was also in February.