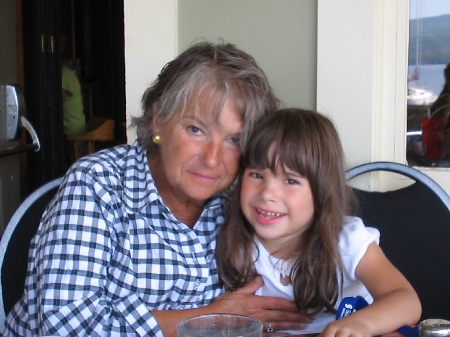 Arlene M. Woodbridge
August 29, 1946 – December 25, 2008
My Mom hadn't been feeling well since last summer. She had no energy, was tired all of the time, and couldn't eat. She was terrible about going to the doctor so she didn't go for a long time. She finally went and had a ton of tests but they couldn't pinpoint what was wrong with her. About 7 weeks ago, she was unable to breathe and was hospitalized. At that point they found a mass in her lung and she was diagnosed with lung cancer. After she got out of the hospital she was placed on medical leave from work and my brother John took care of her.
For almost all of November I was waiting for a call to tell me to come immediately. But Mom started to do better and John said I should just plan on coming for Christmas as I originally intended.
On Monday December 22nd my Mom was readmitted to the hospital after a very difficult weekend at home. This was the day before I was scheduled to arrive. I traveled up on the 23rd, spoke to my Mother on the phone at the hospital and went to bed.
On December 24th, me, my two brothers, John and Dylan, and my daughter spent the afternoon at the hospital with my Mother. I was shocked at the change in her from the last time I had seen her 9 months earlier. John had mentally prepared me but it was very difficult to not break down, which I did not want to do in front of my Mom or my daughter.
We met with the Doctor, who explained the severity of my Mother's condition. They were planning on releasing her on Friday the 26th and my brothers and I needed to discuss how we were going to care for her because we did not want her to be in a nursing home. She didn't have a long time left because she was not strong enough for chemo but we thought at least a couple of months. I was upset about my Mom spending Christmas in the hospital but knew we just needed to make the best of it.
We left the hospital and planned to return the next morning to spend Christmas with her. Instead we received a phone call from the Doctor at 3:30am Christmas morning telling us that my Mother had passed away…
I am not a very religious person and don't really care for many holidays but I do like Christmas – it just seems like this was the worst day this could have possibly happened. Christmas is also my brother Dylan's birthday – he turned 22.
We went back to bed and had my daughter open her gifts like any other Christmas morning. But later we had to talk to the funeral home, call relatives (it's not much fun to call Aunts and cousins that you never talk to on Christmas to tell them someone has died) and make the arrangements. My brothers and I had never done this before and muddled through the best that we could.
I had planned on making my Mom's last Christmas as special as possible. I did not prepare myself for planning and attending her funeral.
The funeral was on Monday December 29th. Originally, I was going to come home that day but came home the 31st instead.
I think I am still in a state of shock. I knew my Mother only had months left but it was so sudden. I am grateful, however, that I got to spend a day with her before it happened. It's almost as if she were waiting to see my daughter and me before she let go.
My Mother was only 62 years old. If you're young, that might seem old but believe me it isn't. My grandfather, my mother's father, lived 30 years longer than that.
I don't feel ready to not have a Mom. I loved her very very much.
Here is her obituary from the Caledonian-Record in St. Johnsbury, Vermont.
I am leaving comments open but please don't feel obligated to write anything. I am not even sure if I should have posted this but I needed to write it. If you think this is inappropriate, I apologize in advance.