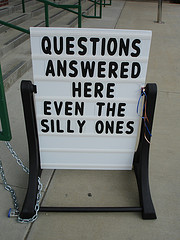 I get a lot of emails from existing clients, previous clients, or potential clients with the subject line "Quick Question". And I have to say that I tend to view these emails negatively.
The word quick implies that the answer is so simple and so effortless that it will somehow take no time for me to answer it and therefore I should not be billing for the time spent answering it.
But, rarely is a quick question something that takes little time.
The following are the steps involved in responding to the question:
Reading the email.
50% of the emails require extra time reading them in order to decipher what the individual is actually asking. Deciphering time can take much longer than answering time.
Formulating a response.
Using google to research the question, if I don't have the answer immediately stored in my brain. That is when "let me google that for you" comes in especially handy. http://tinyurl.com/ddm8nt
Typing the email.
Hoping another question doesn't come because my carefully crafted response was not understood.
Each one of these is going to take 10-15 minutes. If I answer 4 of these each day, I've lost a billable hour. Is your question really so simple or is my time and expertise not valuable enough to pay for? Because I've worked for you once at some time in the past am I now an unlimited supply of free information?
Along the same lines are questions about logins, invoices, etc. Frequently I feel like I'm being asked for this information again because the individual thinks it's easier to ask me rather than search through their emails. Now we all delete emails that we probably needed to keep but it can get tiresome when you know you are being asked for the information rather than the other person bothering to look it up.
And don't even get me started about quick question responses that don't even receive a thank you …
Don't get me wrong. I am happy to answer questions. I ask questions too. I don't, however, expect an immediate response or even any response, I don't email the person directly when it's related to a blog post and I can leave a comment, I don't leave a voice mail 10 mins after sending the inquiry, and I don't use Quick Question in the subject lines of my emails. And I don't ask the same person question after question just because I paid him $100 a year ago.
Does this happen to you? How do you handle "quick questions"?
Maybe we should say "here's your quick answer and I've attached a quick invoice". ;-)
photo credit: Travelin' Librarian