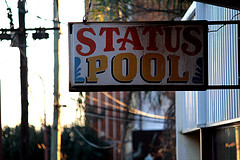 Sometime over the weekend (I first noticed it on Friday night and admittedly, I spent way too much on Facebook for a Friday night), Facebook changed the way your comments on others links, status updates, photos, etc. show up on your profile wall.
Previously my wall would say something like "Kim commented on Deep Friar's status" and the friends name would link to his profile page.
Now an excerpt of your comment is displayed. The friend's name is still linked to her profile page.

Of course I noticed this right after I commented on a thread that was asking which player in the Premier League you disliked the most and why. I realized that I should have commented on the player's skills or lack of them rather than saying his head looked like a potato ;-)
These comments, however, should only be displayed to you, the friend's page that you commented on, and any friends in common. But, you still might not want them to show up. Update: It seems that I was wrong about this. You will see all of them on your friend's wall even if the comments are on profiles that you are NOT friends with. This is not good.
So, if you don't want the the excerpt displayed on your wall, you can do the following:
Not leave any comments you don't want everyone reading an excerpt of on your wall.
Don't say anything important in the first 7-8 words.
Delete them manually from you wall – that will be fun!
I looked through the privacy settings and it doesn't seem that there is anything that can be changed to keep these from displaying. I can change my posts to only be visible to me but that would be for everything I posted, not just my comments, and that kind of defeats the purpose of using social media.
What do you think? Do you like this change?
As for me, I will simply try to refrain from calling Wayne Rooney an overrated potato head. ;-)
photo credit: jonathan_hamner