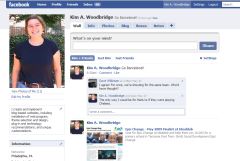 Many people who use Twitter and Facebook use the Twitter Facebook Application to update their facebook status. The facebook status is populated by every tweet except @ messages and direct messages. Even RT (retweets) show up as the facebook status.
I used to use this application. But I stopped. And if you do this, I think you should stop too. I'm going to tell you why. If updating your facebook status manually is too much bother, then I'll offer an alternative facebook application.
When you use the twitter application to update your facebook status, almost every tweet except an @ reply, updates your facebook status. I used to use this but realized that it wasn't working effectively and started updating my status manually.
If I send a lot of tweets in a short time period then my facebook status updates quickly. Am I really that busy? Is every tweet I send interesting on facebook. Probably not. Alternatively, I could make sure that my tweets are appropriate as a facebook status but then I am censoring myself on one platform for the sake of another and am no longer using twitter to an effective communication tool.
I don't know about you but a lot of my friends on facebook don't use twitter. My frequent status updates and retweets made no sense to them at all. It was like I was discussing a topic in one location and then broadcasting it to others who weren't participating in the conversation.
And does it really take me that long to update my facebook status manually? No. And I don't even have to login to do it – I can set us SMS for my account and update my status via my cellphone.
Occasionally my twitter and facebook updates will be in sync. I might think something is especially funny and want to share it in both locations or I might really excited about a football (soccer) match. But generally I have different messages for each platform.
If you feel that you must integrate twitter and facebook, then I recommend an alternative application. It's called Selective Twitter Status. Only tweets that you end with #fb will update your facebook status. The rest of your tweets will just stay with Twitter.
Do you use Twitter and Facebook? Do you update your Facebook status via Twitter? Have any of your facebook friends who don't use twitter ever complained about this? Do you think selective status is a better solution? I'm still going to update manually but I do think it's a better solution.