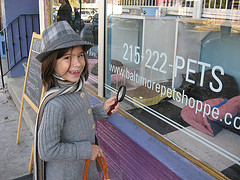 Every year we get way too much candy from trick or treating. I don't want my daughter to eat that much candy and I don't really care for sweets (I'd rather have chips and salsa). Last year when Christmas rolled around we still had Halloween candy. So, I've been wondering what to do with it so we don't have quite so much.
When I worked in an office I used to bring about half the candy into work. People go wild for free food in pretty much any office setting and the junkier it is the better. I think I was almost injured in a pizza stampede one time ;-) But, I haven't worked in an office for 1.5 years now so that isn't a too much candy solution.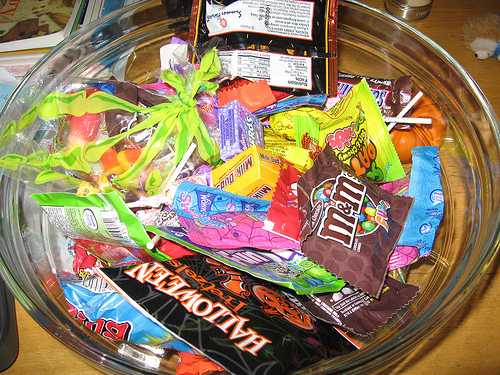 This is my largest glass bowl – the one I don't like to use because it's too heavy to lift – and it's stuffed full of candy.
When I was a kid my Mom didn't really supervise how much Halloween candy I had or when I could eat. As far as I can remember, I kept the collection in my room and ate it whenever I felt like it. I am, however, hoping that my kid will have better teeth than I do. Actually, I'm hoping that all of you have better teeth than I do… So, I want to control how much she eats and when she eats it even though it's very tempting to just say, "let's have candy for dinner".
Ideas?
John Haydon told me that in addition to the tooth fairy, the Halloween fairy also visits his house. Candy is traded for cash ;-) The problem I see with this solution is that my kid would then use the money to buy … candy. lol
Someone else suggested that I give some of the candy to my mail carrier. And that's a good idea – I really like mine and he's a super nice guy. When my doorbell was stolen last year (yes, apparently people will steal anything) he would yell up to my window, "Kim, you have a package." or "Rapunzel, Rapunzel let down your hair." I don't, however, know the best way to catch him – he doesn't come at the same time everyday and I don't have the patience to sit and watch for him.
I could save the best of the candy for the kid's Christmas stocking. Knowing me I would stash it somewhere and then forget all about it for 5 years. ;-)
So, do any of you have too much candy solutions? As much as I enjoy cooking I don't think a sweet tart or gummy thumb casserole will be on the menu anytime soon.
I know this song is about a completely different kind of candy but it's been stuck in my head while writing this post. Oh the silly songs from the 80's.