Last week Vered at MomGrind wrote a post about being grateful and asked her readers to list three things that were right in their lives. Instead of listing the three things in the comments, I decided to write a post on the topic.
First, I have to say that I can't stand complaining. Most of us don't have anything all that serious to complain about. If the energy spent complaining was put into changing what was bothering us, I believe great things could be accomplished. Of course, I complain sometimes but it usually about one of three things; my ex, my lawyer, or when I have dental issues. I make a serious effort to be aware when I am complaining, to stop, and to think of solutions to resolve the problem.
As I've mentioned before, I have had a very difficult year. I have not written about specifics because I want to hide the details from you but am instead protecting other people involved who probably wouldn't appreciate having their personal business written about on my blog.
I have only started to come through the difficulties in the last last couple of months. And now I'm stronger and more confident and happier.
But when I was in the middle of it I was miserable and didn't think I could keep going. I bought a book called Happier because I thought that would it would give me all the answers. I never finished the book because it didn't have the answers and wanted me to do exercises at the end of each chapter. At the time, I couldn't bear having anything extra to do and was annoyed that the book wasn't going to solve all of my problems.
In the part I did read one of the tasks was to keep a gratitude journal. Everyday I was supposed to write down 5 things that I was grateful for. I did do this and it helped give me focus. I don't do it anymore but rather keep a running list in my head.
So, why I am bringing this up? Well, Vered's post made me thing about the gratitude journal and the similarities between the two.
When I was keeping the journal, I was so unhappy that I frequently found it difficult to list 5 things that I was grateful for. My list would contain things like; I got out of bed this morning and went to work, I lost 2lbs, my daughter seems to be happy, and my brother will talk to me on the phone for hours no matter how upset or irrational I am. As I became happier and things settled down, it became easier and the things I was grateful for weren't so sad. But I was desperate to find something, anything that I was grateful about.
Here I am now almost a year later and I am happy and confident and stronger. And, finally, here is my list. Instead of listing three things I am grateful for I am going to list three people.
My Mother – When things were really bad I said to my mother, "I can't do this". Instead of coddling me she kicked me in the ass and replied, "You don't have a choice." At the time I was upset by this but she was right. People tell me that I'm strong but I'm not so sure. What I learned from my mother is that when really tough things get thrown at you the only thing you can do is take them on and deal with in the best way that you can. Once you accept it, you can get through it. My mother also told me last night that she thinks this site is beautiful and that she checks it all the time, loves the photos and reads all the comments. I was so moved by that – I had no idea she was spending that much time with it. She told me that she doesn't comment because she usually has no idea what I am talking about because she doesn't know WordPress but maybe she will comment on this article :-) Plus, my mom keeps loving me no matter what and I'm the first to admit that I have put her through some tough times.

My brother and my daughter
My brother is one of the funniest people I know. He has health problems but still makes other people laugh and cares more for others than himself. I wish we lived closer and could spend more time together. We both like playing video games, watching stupid comedies together, and ranting about politics and society. It's funny how close we are as adults because I couldn't stand him when we were growing up. When things were rough he talked to me on the phone every night and listened to me rant and cry and just plain freak out. And he knew exactly the right way to be at the right time – when I needed sympathy he was sympathetic and when I needed a kick in the ass he yelled at me. He's offered to help me financially and would come immediately if I needed him. He believes in me with the freelancing work and tells me that I'm smart and disciplined. He gives me confidence.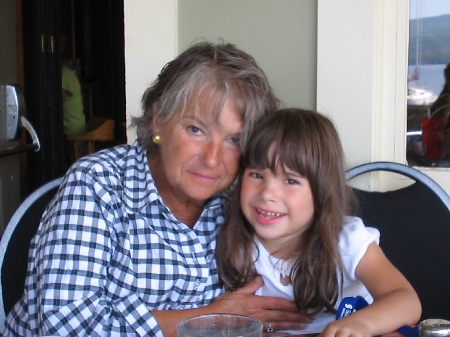 My mother and my daughter
My daughter – well, I am grateful for her because she is my daughter and she's happy and healthy and bright. She grew inside of me and my body nourished her. But most of all I am grateful for how funny she is. She makes me laugh all the time. The other day she asked me who the President was and I told her George Bush. Her response was, "Still?!?" She makes up songs and dance routines, tells me jokes and keeps me company. She's loving and kind. After everything we went through I was so worried that she would somehow be affected negatively, but she's fine. A totally happy and funny kid. We'll see if I'm still grateful for her in 10 years when she's 16. If she's anything like I was, the answer will have to be no. :-)
Like Vered, I'm not going to tag anyone to participate in this but it would be great if you listed three people or things that you are grateful for in the comments. Or if you are inspired to write your own post, please let me know about it.
photo credit: SnoShuu