When I changed the structure of this site a couple of weeks ago by removing some pages and adding new ones, I considered having a static front page and the blog a separate area of the site. My initial thinking was that the front page should promote my professional services and that the blog should not be the primary focus. Ultimately, I decided to leave the blog as the main page because it highlights many of the things that I can do with WordPress and ideas that I am working on.
There are, however, reasons to have a static front page with WordPress and to have it set-up like a standard website with the blog being one part of it. I especially see this as working well for small businesses. For example, a childcare center could use WordPress for their website and have their main information as a static front page and then use the blog to highlight news, dates the center is closed, and parenting tips.
Surprisingly, setting up a static front page in WordPress is not hard at all.
First, make the page that you want to be the front page. You can create it just like you do any other page. Or use one that you already have.
Make a page for your blog posts. All you have to do it title it and make sure it is set to use the default template. You don't have to write any content – the blog posts will go on this page.
Go to Settings > Reading. Change the settings shown in the screen shot below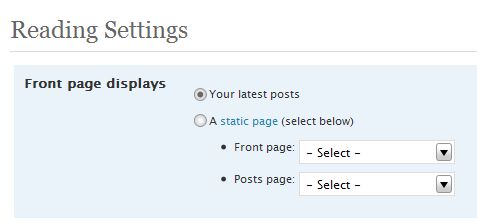 And that's it. That's all there is to it.
You can, however, get fancy and use different sidebars, headers and footers depending on what part of the site you are on, but that will have to be the topic of a different article.
photo credit: Industry Is Virtue