I am not a domestic person. I don't enjoy sewing, decorating, cleaning, organizing, gardening, etc. if you're a regular reader of this site, I'm sure that doesn't come as a surprise to you.
I do, however, enjoy cooking. I didn't used to. But going on 10 years ago I became a vegan (I am a vegetarian now or lapsed vegan) and figured I was either going to starve or live on popcorn (without butter) if I didn't learn how to cook.
I got some cookbooks and magazines, searched for recipes online and learned how to cook. I started with a couple of recipes, which I now know by heart, and slowly increased the recipes I knew.
I am frequently looking for new "keeper" recipes – recipes that I will make over and over again – and the available online now and so much more extensive and are much prettier than they were 10 years ago.(I guess that's the 2 in Web 2 point oh).
So, here are three sites to help you locate new recipes. One is my favorite, one is handy and the other is fun. And last but not the list, if you have someone who knows who is a vegetarian and you want to give them something that is edible and good for their health, then sinful vegan is the answer.
Recipezaar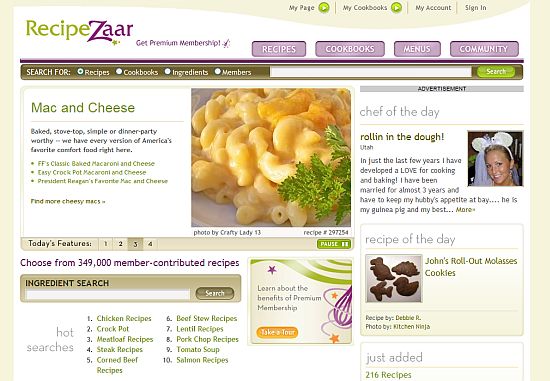 A year ago while searching for vegetarian slow cooker recipes, I discovered Recipezaar. Recipezaar contains a huge database of user contributed recipes. My search for vegetarian recipes resulted in over 35,000 entries. When I refined the search to vegetarian slow cooker recipes I had 413 to choose from.
Recipe searches can be narrowed using the "recipe sifter". The sifter allows you to filter recipes by ingredient, category, course, preparation, occasion and many others. Prep time is one of my favorite filters – "show me all of the vegetarian side dishes that can be made in 15 minutes."
I was happy to discover that a feed can be created for the main recipe categories. So, now all new vegetarian recipes appear in my feed reader daily. The amount of recipes that come in is high but since I never clear out my feed reader and use it more as searchable information repository. Someone who must check all feeds and empty the feedreader probably wouldn't like using the recipe feeds.
Free registration includes the ability to save recipes to your "cookbook", make a grocery list, create a meal plan, add recipes, review recipes, add photos to recipes, and many other features. There is also a premium membership that costs $24.95 annually. Premium membership includes saving multiple cookbooks, creating custom grocery lists, adding notes to recipes, customized recipe printing, and many more features.
RecipeMatcher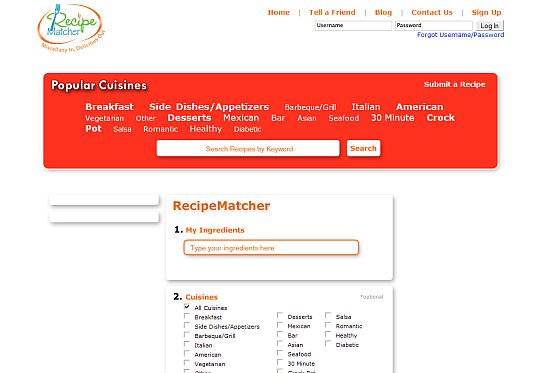 RecipeMatcher allows you to locate recipe using ingredients that you have on hand. Type in the ingredients, the type of cuisine, the main ingredient and then select Search. I tried my search using tofu and carrots, cuisine type vegetarian and I left the main ingredient field blank. I'm not sure if out of tofu and carrots is the primary ingredient. I do, however, almost always have these two things in my fridge.
I got 69 matches and each recipe told me the ingredients that I still needed. I was hoping for simple recipes just using my two ingredients. You can then click on the title of the recipe in which you are interested and get the full details.
The recipe listing could definitely be fleshed out. There is no picture, cook time, prep time, or nutritional information. Since I track my calorie intake per day, I really like to know how many calories are in a recipe.
This site also includes a blog, which is coming soon, and a free sign up. I couldn't locate anything telling me the benefit of signing up and I was too lazy to try it so I'm assuming it will allow you to submit recipes.
Cookthink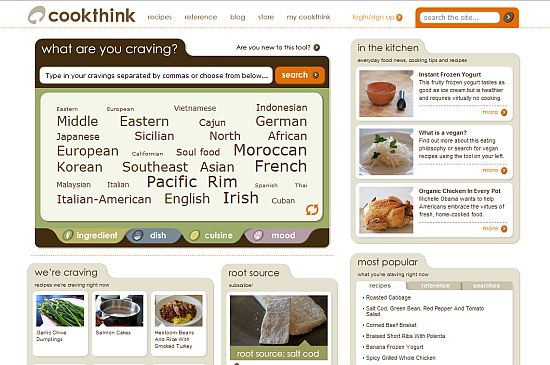 Cookthink allows you to search for recipes based on foods or the type of cuisine you are craving. You can also click on the tabs to select a keyword for ingredient, dish, cuisine or mood. Mood?
Since the first three are obvious searches, I decided to try mood and see what I would get. I went to the mood tab and refreshed the little arrow circle icon and then selected grumpy. The first result was Penne With Tomatoes, Goat Cheese and Thyme. I'm not sure if eating this would make me grumpy or less grumpy. Maybe preparing it would make me grumpy. I don't know – I don't really get it. Maybe one of you will have a theory.
The full recipe does include cook and prep time, a photo and also tells you the tools you will need to make the dish. Ok – large pot, colander, large bowl – got it. But, like RecipeMatcher, it does not include the nutritional information.
Signing up for a free account will allow you to save recipes. Apparently Cookthink will recognize what you search, save and email over time and offer recommendations or learn what you like. You personalized recipes and saved information is stored in the section called My Cookthink. Registering also gives you access to the meal builder feature.
Cookthink also some other useful features. The reference section works like a dictionary or encyclopedia of cooking and with it you can acquire more information about cooking terms, such as dicing, or tools needed for certain reciples. There is a food blog, which is update almost daily, and an Amazon store.
So, if you're cranky and craving pickles this might be just the site for you to locate a new recipe.
Do you like any of these recipe sites? Do you use others? Let me know – I'm especially interested in recipes that include the nutritional information.
photo credit: m kasahara