Facebook is planning a series of changes and improvements that will be rolled out over the next couple of months.
The most important of these changes for those of us with customized fan pages is that there won't be any more boxes.
That's right. No boxes! There won't be a boxes tab, any applications that depend on boxes will need to be added, and we won't have custom profile boxes in our sidebars.
These changes will negate the article I wrote about creating a custom facebook fan page in which I recommended that the Boxes tab be used for customization. I created a series of Static FBML boxes on my Boxes tab to make a custom page that was the default for new visitors.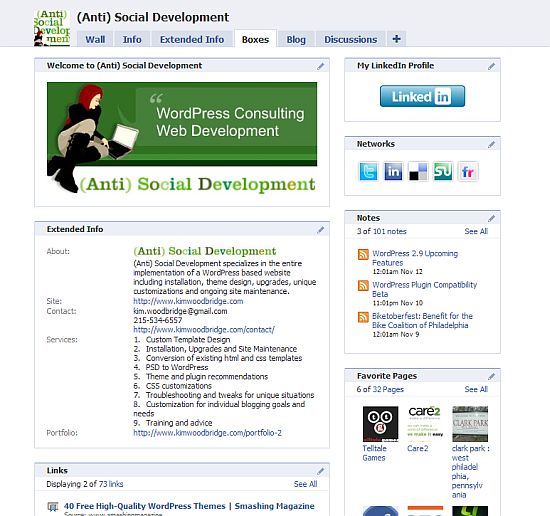 As soon as Facebook implements the changes that removes boxes and the Boxes tab, the above page will no longer exist.
The best solution is to use Static FBML to create a custom tab and then create a layout in html.
I created a new tab and default welcome page to my fan site and named the tab (Anti) Social Development.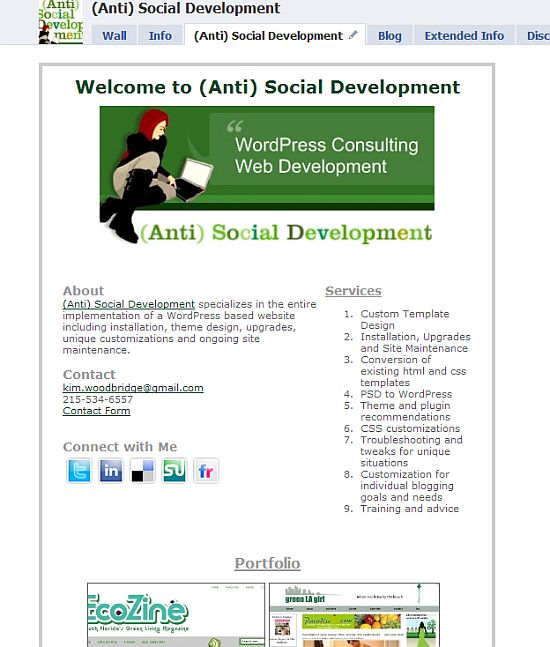 The applications tab is going to have less space and we will have 510px to work with. Even if you are already using a custom tab rather than the boxes tab, you will want to check the size and make any necessary reductions.
The plus side to this is that I wanted to create a custom tab rather than use the boxes tab and the upcoming facebook changes forced me to do so. Of course, the downside is that if I didn't make the new tab my customizations would no longer be available.
These changes are scheduled for the end of this year or the beginning of next so there is some time to make the changes.
This does not, however, resolve the issue of other applications that use boxes or customizations I have made that use Static FBML in boxes in the sidebar. These do not warrant their own tab and some of the information has been included on the tab that I made but I will lose a level of personalization to my fan page. Hopefully Facebook will provide a replacement application for this.
This will also affect the Custom Profile box that I have on my profile page that I created to link to my fan page. Like I said, there won't be ANY boxes used in applications. I don't know how I can recreate this functionality but, again, am hopeful that Facebook will provide some sort of replacement.
I have not removed the Boxes tab or the sidebar boxes on the wall because I wanted to have them there as examples for this article and to compare and contrast the new tab vs the Boxes tab. I may remove them but since I have already made the new page it is fine with me if they disappear when Facebook makes their updates.
Well, it's not fine with me but it's one of those things that I have no control over. I'm just glad that Facebook provided advanced notification – that isn't something they've been known to do.
I really am not sure what will happen to boxes such as favorite pages, the LinkedIn application, notes, etc. I suppose for them to work they will have to become tabs. But how many tabs does a page want to have? After 5 or 6 they don't fit across the screen and can only be accessed with the dropdown arrow. I suppose we will just have to wait and see what happens.
If you need assistance converting your pages, please contact me as I provide a facebook fan page service.
For more in depth reading about these changes, please visit the following sites.
photo credit: drp